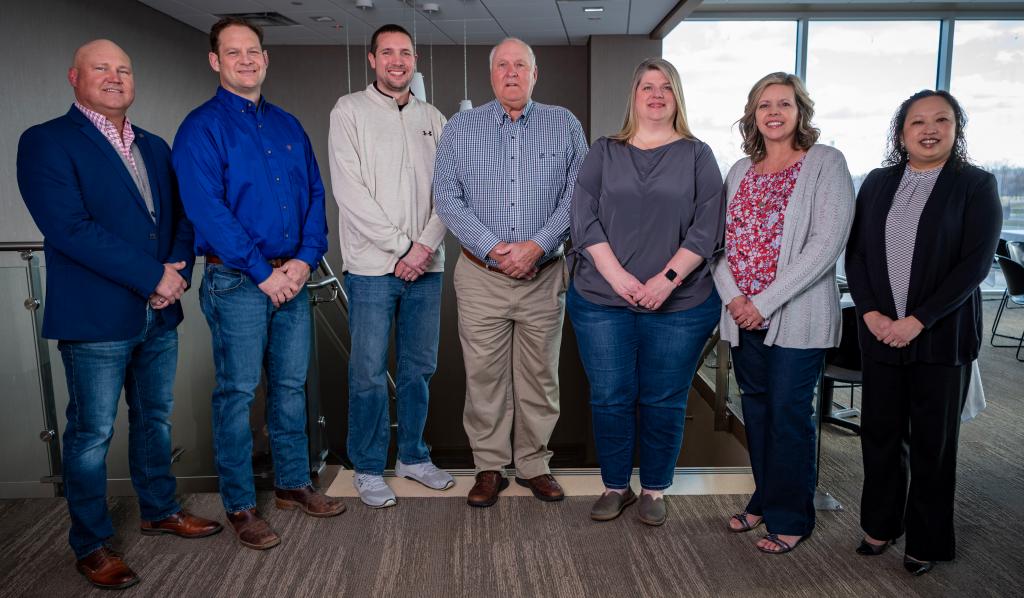 Forest City School Board, (Pictured from left to right - Troy Thompson, Eric Kingland, David Reese, Gary Ludwig, Keila Buffington, Beth Clouse, Kim Severson)
BOARD MEMBERS -




TERMS & DIRECTOR DISTRICTS
| | | | |
| --- | --- | --- | --- |
| Director | Position | Term Expires | Director District |
| Gary Ludwig | Board President | November 2023 | 5 |
| Keila Buffington | Board Vice-President | November 2023 | 1 |
| Beth Clouse | Board Member | November 2025 | 1 |
| Eric Kingland | Board Member | November 2025 | 1 |
| David Reese | Board Member | November 2025 | 3 |
| Kim Severson  | Board Member | November 2023 | 4 |
| Troy Thompson | Board Member | November 2025 | 2 |
Gary Ludwig, current Board President, has always had a passion for education. He rejoined the board in 2019 to serve a fourth term and did so because he is proud of the Forest City School District and enjoys the kids and the partnership opportunities within our community. Gary is a retired Iowa State Trooper (32 years); however, he actually first had in mind becoming a teacher and coach and holds a BA from UW Stevens Point. Gary and his wife, Barb, have lived in Forest City since 1977 and have two children that graduated from Forest City Schools.
Keila Buffington, her husband, Andy, and their two children are all proud alumni of Forest City High School. She currently serves as vice president. Keila only attended FCHS her junior and senior year; however, credits this positive experience for wanting to give back and has done so by serving on the Board of Education since 2005. Professionally, Keila works at FCIS Insurance as the finance and licensing manager and also serves on the Independent Insurance Agents of Iowa Education Committee. Additionally, she is active in their church, Immanuel Lutheran, and has held various leadership and committee roles. Keila is also on the board for the Boman Fine Arts Center.
Beth Clouse has had a lifelong interest in the field of education shown by her varied classroom experiences both during her college studies and after receiving her BA in Education at MSU, Mankato. Among these experiences are: community ed Spanish classes, K-1 Spanish, ESL classes for migrant workers, workplace Spanish classes for adults, and Spanish and ESL classes at Waseca High School, where she taught for seven years before she and her husband started their family. After residing in the Dominican Republic for eight years, they decided to move back to Mark's hometown and have appreciated all the opportunities the town and school district has provided for their family. Her husband, Mark, is a Forest City grad, and they have four children who have been a part of the Forest City School District since 2010. Beth currently serves on the Library Board, is an active member of her church community, assists with AFS Fun Night, and works as the supervisor for Winnebago County First Steps, a program that focuses on supporting area families with preschool children. Beth is excited to be a new member of the FCCSD School Board and sees this as a wonderful opportunity to serve the community.  
Eric Kingland believes in the importance of community. He has served on the Board of Education since 2011 as well as numerous boards in the community and professionally including Forest City Economic Development, YMCA, Iowa Workforce Development and Master Builders of Iowa to name a few. Eric is the president of Kingland Construction Services. He is passionate about educating students and the general public about opportunities in the construction/trades industries. Eric and his wife Shelly live in Forest City and have four children. He chose to serve on the school board to be informed and involved in shaping the education of their children and students in our community.
David Reese and his wife, Alicia, have three children in the Forest City School District. He is a 2003 graduate of Forest City and earned an Ag Associates degree from NIACC in 2005. David operates a hog and grain farm southwest of Forest City and likes to golf and hunt in his spare time. David chose to serve beginning in 2021 so that he could be involved in the decision making process of their children's education.
Kim Severson joined the Board of Education in 2018. She holds both BA and Master's degrees from Waldorf University and graduated from Forest City High School. Professionally, Kim works part-time as the Business Finance and Human Resources Manager at Immanuel Lutheran Church of Forest City. Kim is very active in the community and also serves on the Fertile Library Board, the Fertile Days Committee, the Call Committee for her church and is Sunday School Treasurer. She and her husband, Tim, have two children in the school district. The Seversons organize the Fertile Little League and enjoy coaching. Kim chose to serve because she had a great experience as a student and wanted to take part in ensuring that the district thrives for future generations of Forest City graduates.
Troy Thompson is a graduate of FCCSD. He has a BA in history from Waldorf College and graduate studies in Military History from Norwich University. He retired from active military service after 26 years. He and his wife, Heidi, have four sons two that have graduated from FCHS and completed college and two that are still at FCHS/FCMS. He is active in BrickStreet Theatre, the Armed Forces Historical Center of North Iowa, Forest City Sports Boosters and several fraternal military organizations. His desire to serve as a school board member stems from his positive experience as a student and parent in the district, a strong educational value system instilled by his mother - a professional educator, and an instinct to continue in service to our community.